Recent Posts
1
« Last post by Tyler on Today at 12:00:49 pm »
Earth Orbital Diagram
18 August 2017, 5:00 am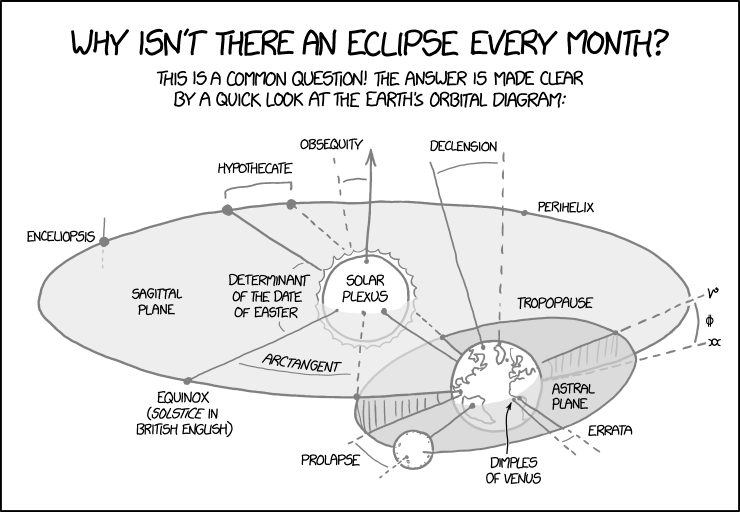 Source:
xkcd.com
2
best not make robots out of metal they are too dangerous IMO.

best to go for safety rubber, u wouldnt want to take yourself out halfway through your endevour.
3
Hi Keghn.
That Lorenz attractor looks interesting, but i cant tell what it does from that video.
To compare is powerful indeed, A basic compare (which is all you need. and i think its what you were talking about!
) is to simply know "have i seen this before?"
If I put "have I seen this before" in a time chain, you see what comes after what, and we get the cellular automata playback.
Which is very important to my theory - and alot of other scientists!
4
« Last post by squarebear on August 18, 2017, 10:22:58 pm »
5
« Last post by keghn on August 18, 2017, 06:23:24 pm »
To compare is a powerful thing. For machine or human.
No two thing have the exact energy state. So there is always a difference between two compared things.
In some hyper theoretical world where 5 and 7 are the closet match. Only plus or minus 2. And all numbers are are greater
than plus or minus 3 apart.
Dead center is 6 and cannot exist in this world but only in are heads.
Now about reward and anti reward?? To get are bot to do what we want or what it wants or a group to do what is should do
by putting carrot to draw it to a center value or anti reward to push it to a center target That my never exist?:
Cooperatively Learning Human Values:
http://bair.berkeley.edu/blog/2017/08/17/cooperatively-learning-human-values/
A Twisted Path to Equation-Free Prediction:
https://www.quantamagazine.org/chaos-theory-in-ecology-predicts-future-populations-20151013/
Introduction to Empirical Dynamic Modeling:
6
« Last post by keghn on August 18, 2017, 04:35:57 pm »

OpenAI's Bot Beats DOTA World Champion Dendi | Two Minute Papers #180:


7
« Last post by yotamarker on August 18, 2017, 04:23:20 pm »
this guy makes the best acid trip videos ever !
8
« Last post by keghn on August 18, 2017, 03:49:29 pm »
SMASH: One-Shot Model Architecture Search through HyperNetworks:


9
« Last post by keghn on August 18, 2017, 03:46:48 pm »
And the AGI does need to go through a infancy phase!!!!
10
« Last post by LOCKSUIT on August 17, 2017, 11:55:58 pm »
"meow"
XKCD Comic : Earth Orbital Diagram
by Tyler (XKCD Comic)
Today at 12:00:49 pm
Determined and at the core of AI.
by ranch vermin (General Project Discussion)
Today at 05:03:09 am
To Compare
by ranch vermin (General AI Discussion)
Today at 03:33:03 am
OpenAI's Bot Beats DOTA World Champion Dendi | Two Minute Papers #180
by squarebear (General AI Discussion)
August 18, 2017, 10:22:58 pm
SMASH: One-Shot Model Architecture Search through HyperNetworks
by yotamarker (General AI Discussion)
August 18, 2017, 04:23:20 pm
Robotis OP2, neural network. An infant approach!
by keghn (General Project Discussion)
August 18, 2017, 03:46:48 pm
essay topic
by LOCKSUIT (General AI Discussion)
August 17, 2017, 11:55:58 pm
XKCD Comic : Eclipse Science
by Tyler (XKCD Comic)
August 17, 2017, 12:00:36 pm
Bringing neural networks to cellphones
by Tyler (Robotics News)
August 14, 2017, 12:00:25 pm
Watch 3-D movies at home, sans glasses
by Tyler (Robotics News)
August 13, 2017, 12:01:16 pm
Miniaturizing the brain of a drone
by Tyler (Robotics News)
August 12, 2017, 12:02:09 pm
Using chip memory more efficiently
by Tyler (Robotics News)
August 11, 2017, 12:00:29 pm
Why do some neighborhoods improve?
by Tyler (Robotics News)
August 10, 2017, 12:01:59 pm
DeepMind and Blizzard finally released their AI Framework for StarCraft 2
by Marco (AI News )
August 09, 2017, 07:05:14 pm
Practical parallelism
by Tyler (Robotics News)
August 09, 2017, 12:06:10 pm
Peering into neural networks
by Tyler (Robotics News)
August 08, 2017, 12:00:59 pm
Users Online
20 Guests, 0 Users
Most Online Today: 34. Most Online Ever: 208 (August 27, 2008, 09:36:30 am)
Articles