Recent Posts
91
« Last post by Tyler on August 10, 2017, 12:01:58 pm »
Geologic Faults
9 August 2017, 5:00 am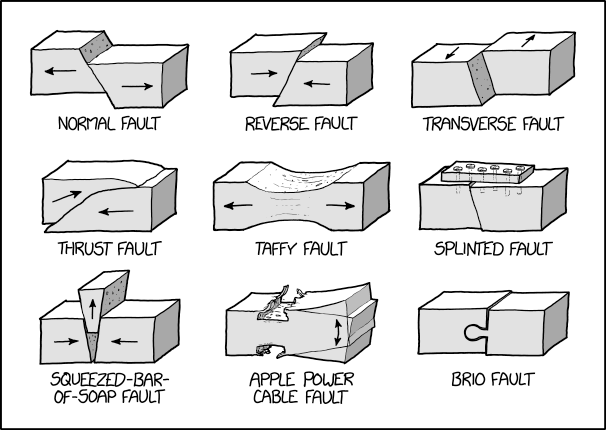 Source:
xkcd.com
92
« Last post by Claude on August 10, 2017, 03:48:29 am »
93
« Last post by keghn on August 09, 2017, 10:47:43 pm »
94
« Last post by yotamarker on August 09, 2017, 10:31:34 pm »
no, a faucet's shiber actually.
95
« Last post by Freddy on August 09, 2017, 10:23:47 pm »
Tick the box that says to always stay logged in. I never log out and it prevents this happening.
96
« Last post by keghn on August 09, 2017, 10:19:56 pm »
Recently i have been getting logged out automatically. i log in type a pager words. then I post and the it is lost because
i was auto logged out and did not even know it.
97
« Last post by keghn on August 09, 2017, 10:14:28 pm »
98
« Last post by yotamarker on August 09, 2017, 09:57:56 pm »
that confirms the shiber algorithm for speeding it up
99
« Last post by keghn on August 09, 2017, 09:54:09 pm »
The mind uses temporal memory to build up map. That is build up into a image.
The eye records a pinpoint scan along with the out of focus back ground and build up map that is turned into a image.
Then with this with these images it build up a video frames. Than with these video frames it builds up a map that surrounds
the head of the AGI bot in 3 d simulated space. Like it is printed on the inside of globe that surrounds the AGI's head.
The internal self learning 3 d simulator can make adjustment to this map when it move to a different physical location in the real world
or moving around in the simulation as a ghost. As well as when it move up!.................. WAY UP.............. So that it can
make a terrain map that that can be compared against a physically real road map.
Also the AGI has video sent to it brain. In the video, it has special border that is broken into brick like sections. These pieces are
boarder pieces. These piece will transform into object that move into image. They are all marked with what object
and the percent of it becoming active, like car, person, bird, or what ever. When that object move off the video image the marker
goes back up on the video image boarder. The boarder piece and the activation percent change with time and the AGI bot's location. In
the real world or simulated n space.
The AGI view the world the "Mind focus":
http://aidreams.co.uk/forum/index.php?topic=12328.0
The mind focuses can make transition into 3 D simulated metal memory and construction space in less than a instant and come back
out with the needed information.
real time algorithm tester:
https://opencv.multimedia-processing.com/index.php#
100
« Last post by korrelan on August 09, 2017, 08:04:49 pm »
Welcome Marco.
essay topic
by LOCKSUIT (General AI Discussion)
August 17, 2017, 11:55:58 pm
Robotis OP2, neural network. An infant approach!
by Eric (General Project Discussion)
August 17, 2017, 03:02:54 pm
XKCD Comic : Eclipse Science
by Tyler (XKCD Comic)
August 17, 2017, 12:00:36 pm
Foward from Yahoo VR group
by Art (General Chat)
August 15, 2017, 04:26:15 pm
XKCD Comic : Eclipse Searches
by Tyler (XKCD Comic)
August 15, 2017, 12:02:30 pm
Determined and at the core of AI.
by LOCKSUIT (General Project Discussion)
August 15, 2017, 12:38:28 am
Ideas/opinions for troubleshooting exploding output values (DQN)
by Marco (AI Programming)
August 14, 2017, 03:09:29 pm
Deep Q Learning for Video Games - The Math of Intelligence #9
by LOCKSUIT (General AI Discussion)
August 13, 2017, 11:36:05 pm
Bringing neural networks to cellphones
by Tyler (Robotics News)
August 14, 2017, 12:00:25 pm
Watch 3-D movies at home, sans glasses
by Tyler (Robotics News)
August 13, 2017, 12:01:16 pm
Miniaturizing the brain of a drone
by Tyler (Robotics News)
August 12, 2017, 12:02:09 pm
Using chip memory more efficiently
by Tyler (Robotics News)
August 11, 2017, 12:00:29 pm
Why do some neighborhoods improve?
by Tyler (Robotics News)
August 10, 2017, 12:01:59 pm
DeepMind and Blizzard finally released their AI Framework for StarCraft 2
by Marco (AI News )
August 09, 2017, 07:05:14 pm
Practical parallelism
by Tyler (Robotics News)
August 09, 2017, 12:06:10 pm
Peering into neural networks
by Tyler (Robotics News)
August 08, 2017, 12:00:59 pm
Users Online
17 Guests, 0 Users
Most Online Today: 19. Most Online Ever: 208 (August 27, 2008, 09:36:30 am)
Articles