If you do electricity without metal, it makes for cheaper production.
The main problem is you need metal to convert to mechanical force.
But it turns out the electric field also is mechanical, probably weaker, (EDIT: THAN MAGNETIC) but still works. (capacitors.)
So heres a video of it going->
https://www.youtube.com/watch?v=PgNKeqOCOKE
2 Comments | Started April 04, 2020, 08:21:47 PM
BirdyVM in General Project Discussion
Hi,

I've updated & upgraded my old 'Birdy' project, which is now stronger and conceptually stable.
https://github.com/ThinkbotsAreFree/Birdy

I've also implemented a working prototype for testing purpose:
http://thinkbots.are.free.fr/ProjectBirdyVM/

It's a multi-agent system that relies heavily on the pub/sub pattern, on string rewriting, and on the 'graphmaster' technique (à la AIML). There are mainly two types of entities: units and rules, which have complementary strengths and use cases.
- Units are concave lenses that tend to produce divergent thinking (explorative, spontaneous, free-flow).
- Rules are convex lenses that tend to produce convergent thinking (focusing, logical, procedural).

Edit: comments are not implemented yet
10 Comments | Started March 24, 2020, 08:53:36 AM
I came up with my own programming language. At least I think. Here it is below. It can do lots with text and even modify its own code. See how it grabs its pointer code and creates a node tree of pointers?

For comparison, C++ and the tutorials look much longer/harder https://www.learncpp.com/

In my language, all you code is: where to look (which function, or where in a string), and what to read/write. You can grab any letter in the code or even an input file and place it to write code/file. Similar to a Turing Tape machine, but very usable it seems.

g=goto
f=function
s=string
r=read
w=write
"""=any chars
###=digit
#=#
+=+1
-=-1
c=create function below
d=delete
OR
AND

REAL EXAMPLE:

gf3 c"""
gf3 gs3 gf4 gs3
5 gf3 r gs+ gf4 gs+ w
"""the cat was
gf0 r gf7 w gf0 gs3 gf6 w
OR
hmm...you get the idea

What I did above is goto line 4, create a line line5 below it starting with """. Then now I'm done line1 code I move onto line 2 and I goto line 5 we created and go to letter 4 in that line and then i just made the current position here now i'm gonna go to line 5 and go to letter 4. Now on code line 3 it says 5, so 5 loops. You can see a read/grab/clone something and drop it off somewhere. The gs+ just increments the position forward by 1.

Looking for feedback. Could it work?
91 Comments | Started February 01, 2020, 03:25:20 AM
Is everyone else experiencing major world changes from it? Paypal mentioned it. A few people in my city has it now. All the shelves are bare in all my stores, the humans are hoarding. Presidents are getting it.
75 Comments | Started March 15, 2020, 04:45:15 AM
I found on OpenAI's Twitter a Circuits Slack_discussion. Finally they are coming my way, and having a open discussion about it.

https://distill.pub/2020/circuits/zoom-in/
3 Comments | Started April 03, 2020, 02:49:20 AM
Most people find that the right kind of music can help them accomplish more in their waking hours. On a good day it can lift the spirits and inspire great thoughts. Other days it might merely serve to blot out the sound of the neighbours arguing, and then subsequently making up just as noisily.


My favorites over the years have been artists like Mike Oldfield, Jean Michel Jarre, Vangelis, and an assortment of anime themes and classical music. I would be curious to know what kinds of music others here find helpful. Which artists inspire your grandest thoughts?

To get the ball rolling I'll offer up the following video which contains two hours of highlights from a new source that I discovered recently. I am absolutely certain that no matter what your musical tastes, you won't be able to listen to this without feeling deeply moved and inspired.

https://www.youtube.com/watch?v=ssAI-0KyTGc
16 Comments | Started January 25, 2020, 09:50:02 AM
Collector's Edition
3 April 2020, 5:00 am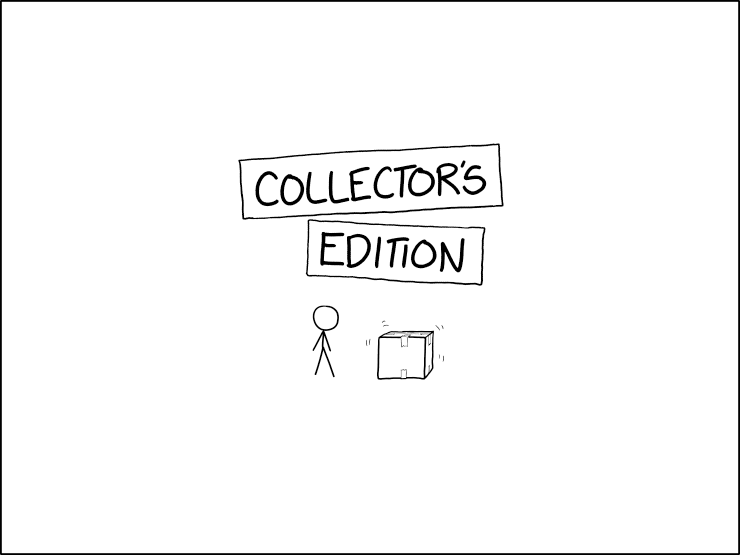 Source: xkcd.com


1 Comment | Started April 03, 2020, 12:01:01 PM
Q&A: Markus Buehler on setting coronavirus and AI-inspired proteins to music
2 April 2020, 9:50 pm

The proteins that make up all living things are alive with music. Just ask Markus Buehler: The musician and MIT professor develops artificial intelligence models to design new proteins, sometimes by translating them into sound. His goal is to create new biological materials for sustainable, non-toxic applications. In a project with the MIT-IBM Watson AI Lab, Buehler is searching for a protein to extend the shelf-life of perishable food. In a new study in Extreme Mechanics Letters, he and his colleagues offer a promising candidate: a silk protein made by honeybees for use in hive building.

In another recent study, in APL Bioengineering, he went a step further and used AI discover an entirely new protein. As both studies went to print, the Covid-19 outbreak was surging in the United States, and Buehler turned his attention to the spike protein of SARS-CoV-2, the appendage that makes the novel coronavirus so contagious. He and his colleagues are trying to unpack its vibrational properties through molecular-based sound spectra, which could hold one key to stopping the virus. Buehler recently sat down to discuss the art and science of his work.

Q: Your work focuses on the alpha helix proteins found in skin and hair. Why makes this protein so intriguing?

A: Proteins are the bricks and mortar that make up our cells, organs, and body. Alpha helix proteins are especially important. Their spring-like structure gives them elasticity and resilience, which is why skin, hair, feathers, hooves, and even cell membranes are so durable. But they're not just tough mechanically, they have built-in antimicrobial properties. With IBM, we're trying to harness this biochemical trait to create a protein coating that can slow the spoilage of quick-to-rot foods like strawberries.

Q: How did you enlist AI to produce this silk protein?

A: We trained a deep learning model on the Protein Data Bank, which contains the amino acid sequences and three-dimensional shapes of about 120,000 proteins. We then fed the model a snippet of an amino acid chain for honeybee silk and asked it to predict the protein's shape, atom-by-atom. We validated our work by synthesizing the protein for the first time in a lab — a first step toward developing a thin antimicrobial, structurally-durable coating that can be applied to food. My colleague, Benedetto Marelli, specializes in this part of the process. We also used the platform to predict the structure of proteins that don't yet exist in nature. That's how we designed our entirely new protein in the APL Bioengineering study.

Q: How does your model improve on other protein prediction methods?

A: We use end-to-end prediction. The model builds the protein's structure directly from its sequence, translating amino acid patterns into three-dimensional geometries. It's like translating a set of IKEA instructions into a built bookshelf, minus the frustration. Through this approach, the model effectively learns how to build a protein from the protein itself, via the language of its amino acids. Remarkably, our method can accurately predict protein structure without a template. It outperforms other folding methods and is significantly faster than physics-based modeling. Because the Protein Data Bank is limited to proteins found in nature, we needed a way to visualize new structures to make new proteins from scratch.

Q: How could the model be used to design an actual protein?

A: We can build atom-by-atom models for sequences found in nature that haven't yet been studied, as we did in the APL Bioengineering study using a different method. We can visualize the protein's structure and use other computational methods to assess its function by analyzing its stablity and the other proteins it binds to in cells. Our model could be used in drug design or to interfere with protein-mediated biochemical pathways in infectious disease.

Q: What's the benefit of translating proteins into sound?

A: Our brains are great at processing sound! In one sweep, our ears pick up all of its hierarchical features: pitch, timbre, volume, melody, rhythm, and chords. We would need a high-powered microscope to see the equivalent detail in an image, and we could never see it all at once. Sound is such an elegant way to access the information stored in a protein.

Typically, sound is made from vibrating a material, like a guitar string, and music is made by arranging sounds in hierarchical patterns. With AI we can combine these concepts, and use molecular vibrations and neural networks to construct new musical forms. We've been working on methods to turn protein structures into audible representations, and translate these representations into new materials.

Q: What can the sonification of SARS-CoV-2's "spike" protein tell us?

A: Its protein spike contains three protein chains folded into an intriguing pattern. These structures are too small for the eye to see, but they can be heard. We represented the physical protein structure, with its entangled chains, as interwoven melodies that form a multi-layered composition. The spike protein's amino acid sequence, its secondary structure patterns, and its intricate three-dimensional folds are all featured. The resulting piece is a form of counterpoint music, in which notes are played against notes. Like a symphony, the musical patterns reflect the protein's intersecting geometry realized by materializing its DNA code.

Q: What did you learn?

A: The virus has an uncanny ability to deceive and exploit the host for its own multiplication. Its genome hijacks the host cell's protein manufacturing machinery, and forces it to replicate the viral genome and produce viral proteins to make new viruses. As you listen, you may be surprised by the pleasant, even relaxing, tone of the music. But it tricks our ear in the same way the virus tricks our cells. It's an invader disguised as a friendly visitor. Through music, we can see the SARS-CoV-2 spike from a new angle, and appreciate the urgent need to learn the language of proteins.

Q: Can any of this address Covid-19, and the virus that causes it?

A: In the longer term, yes. Translating proteins into sound gives scientists another tool to understand and design proteins. Even a small mutation can limit or enhance the pathogenic power of SARS-CoV-2. Through sonification, we can also compare the biochemical processes of its spike protein with previous coronaviruses, like SARS or MERS.

In the music we created, we analyzed the vibrational structure of the spike protein that infects the host. Understanding these vibrational patterns is critical for drug design and much more. Vibrations may change as temperatures warm, for example, and they may also tell us why the SARS-CoV-2 spike gravitates toward human cells more than other viruses. We're exploring these questions in current, ongoing research with my graduate students.

We might also use a compositional approach to design drugs to attack the virus. We could search for a new protein that matches the melody and rhythm of an antibody capable of binding to the spike protein, interfering with its ability to infect.

Q: How can music aid protein design?

A: You can think of music as an algorithmic reflection of structure. Bach's Goldberg Variations, for example, are a brilliant realization of counterpoint, a principle we've also found in proteins. We can now hear this concept as nature composed it, and compare it to ideas in our imagination, or use AI to speak the language of protein design and let it imagine new structures. We believe that the analysis of sound and music can help us understand the material world better. Artistic expression is, after all, just a model of the world within us and around us.

Co-authors of the study in Extreme Mechanics Letters are: Zhao Qin, Hui Sun, Eugene Lim and Benedetto Marelli at MIT; and Lingfei Wu, Siyu Huo, Tengfei Ma and Pin-Yu Chen at IBM Research. Co-author of the study in APL Bioengineering is Chi-Hua Yu. Buehler's sonification work is supported by MIT's Center for Art, Science and Technology (CAST) and the Mellon Foundation.

Source: MIT News - CSAIL - Robotics - Computer Science and Artificial Intelligence Laboratory (CSAIL) - Robots - Artificial intelligence

Reprinted with permission of MIT News : MIT News homepage




Use the link at the top of the story to get to the original article.
Started April 03, 2020, 12:01:02 PM
i have added an algorythmic voice cloning trial to my program "vocoder_chung"


link => https://sourceforge.net/projects/vocoder-chung/
6 Comments | Started March 28, 2020, 01:12:25 PM
Feat. Mitsuku in AI in Film and Literature.
A short documentary featuring the voice synthesis of Mitsuku

https://www.youtube.com/watch?v=9D5IwUIhxJc

Educational about Ubuntu Linux. Is there anything this chatbot can't do?

Cite Sources:

baby WOGUE channel:

https://www.youtube.com/channel/UCZWadyLVO4ZnMgLrRVtS6VA
2 Comments | Started April 02, 2020, 06:03:56 AM
Rogue One follows a group of rebels on a mission to steal the plans for the Death Star, the Galactic Empire's super weapon, just before the events of A New Hope.
Former scientist Galen Erso lives on a farm with his wife and young daughter, Jyn. His peaceful existence comes crashing down when the evil Orson Krennic takes him away from his beloved family. Many years later, Galen becomes the Empire's lead engineer for the most powerful weapon in the galaxy, the Death Star. Knowing that her father holds the key to its destruction, Jyn joins forces with a spy and other resistance fighters to steal the space station's plans for the Rebel Alliance.
One of the resistance fighters is K-2SO a droid. He is a CGI character voiced and performed through motion capture by Alan Tudyk. In the film, K-2SO is a KX-series security droid originally created by the Empire.
Feb 25, 2020, 18:50:48 pm
Discover how all levels Artificial Intelligence (AI) can be present in the most unimaginable scenarios of ordinary lives. This book explores subjects such as neural networks, agents, multi agent systems, supervised learning, and unsupervised learning. These and other topics will be addressed with real world examples, so you can learn fundamental concepts with AI solutions and apply them to your own projects.

People tend to talk about AI as something mystical and unrelated to their ordinary life. Practical Artificial Intelligence provides simple explanations and hands on instructions. Rather than focusing on theory and overly scientific language, this book will enable practitioners of all levels to not only learn about AI but implement its practical uses.
Feb 10, 2020, 00:14:42 am
Danny discovers he is not human, he is a robot - an indestructible war machine. His girlfriend was kidnapped by a mysterious organization of spies who are after him & now he must go on a journey to save his girl and find out why the hell he is a robot?!
Feb 09, 2020, 23:55:45 pm
Program Y
in AIML / Pandorabots
Program Y is a fully compliant AIML 2.1 chatbot framework written in Python 3. It includes an entire platform for building your own chat bots using Artificial Intelligence Markup Language, or AIML for short.
Feb 01, 2020, 15:37:24 pm
The AvatarBot helps you in finding an Avatar for your Chatbot. Answer a few questions and get a match. Keep trying to get the one you really like.
Dec 18, 2019, 14:51:56 pm
Eva
in Chatbots - English
Our chatbot - Eva - was created by Stanusch Technologies SA. Eva, just 4 weeks after launch, competed in Swansea (UK) for the Loebner Prize 2019 with programs such as Mitsuku and Uberbot! Now, she is in the top 10 most-humanlike bots in the world! :)

Is it possible for Eva to pass the turing test? It's creators believe it is.
Eva has her own personality: she is 23 years old, she is a student from the Academy of Physical Education in Katowice (Lower Silesia district/Poland). She is a very charming and nice young women, who loves to play volleyball and to read books.
Dec 14, 2019, 13:10:13 pm
Star Wars: The Rise of Skywalker (also known as Star Wars: Episode IX – The Rise of Skywalker) is an American epic space opera film produced, co-written, and directed by J. J. Abrams.
A year after the events of The Last Jedi, the remnants of the Resistance face the First Order once again—while reckoning with the past and their own inner turmoil. Meanwhile, the ancient conflict between the Jedi and the Sith reaches its climax, altogether bringing the Skywalker saga to a definitive end.
Nov 15, 2019, 22:31:39 pm
Terminator: Dark Fate is a 2019 American science fiction action film directed by Tim Miller and created from a story by James Cameron. Cameron considers the film a direct sequel to his films The Terminator (1984) and Terminator 2: Judgment Day. The film stars Linda Hamilton and Arnold Schwarzenegger returning in their roles of Sarah Connor and the T-800 "Terminator", respectively, reuniting after 28 years.
SPOILERS:
In 1998, three years after defeating the T-1000 and averting the rise of the malevolent artificial intelligence (AI) Skynet, Sarah Connor and her teenage son John are relaxing on a beach at Guatemala. A T-800 Terminator, sent from the future before Skynet's erasure, arrives and shoots John, killing him.
Mackenzie Davis stars as Grace: A soldier from the year 2042 adopted by Resistance leader Daniella Ramos who was converted into a cyborg and sent by her adoptive mother to protect her younger self from a new advanced Terminator prototype.
Oct 29, 2019, 21:27:46 pm
Life Like
in Robots in Movies
A couple, James and Sophie, buy an android called Henry to help around the house.
In the beginning, this is perfect for both James and Sophie as Henry does housework and makes a good companion to Sophie. But when Henry's childlike brain adapts by developing emotions, complications begin to arise
Oct 29, 2019, 21:14:49 pm
I Am Mother is a 2019 Australian science fiction thriller film directed by Grant Sputore, from a screenplay by Michael Lloyd Green. Starring Clara Rugaard, Luke Hawker, Rose Byrne, and Hilary Swank, the film follows Daughter, a girl in a post-apocalyptic bunker, being raised by Mother, an android supposed to aid in the repopulation of Earth.
Sep 30, 2019, 21:39:16 pm
For the fourth consecutive year, Steve Worswick's Mitsuku has won the Loebner Prize for the most humanlike chatbot entry to the contest. This is the fifth time that Steve has won the Loebner Prize. The Loebner Prize is the world's longest running Turing-Test competition and has been organised by AISB, the world's oldest AI society, since 2014.
Sep 30, 2019, 21:18:50 pm